Search by ZIP
Input ZIP Code:
FIPS Regions:
County:
Population *:
COVID **:

* US Census 2019 Estimate ** John Hopkins.
---
Search by FIPS
Input FIPS Code:
County:
Population *:
COVID **:

* US Census 2019 Estimate ** John Hopkins.
Risk Estimator
Population in the Region (Community/City/County/State/Country)
# of People in the Grocery Stores/Gyms/Restaurants/Workplaces/Recreational Areas/Beaches
# of Active Cases in the Region
# of Active Cases in the Region 15 days ago
# of Active Cases in the Region 30 days ago
# of Active Cases in the Region 56 days ago
# of Deaths in the Region
Estimation:
---
Risk Thresholding
Low Risk
This information is for children and adults.
Continue hygiene measures, physical social distancing and wear face coverings.
Monitor for symptoms with updated information, contact tracing and exposure risk information.
Stay home if sick.
Moderate Risk
Abide by all recommendations for Low Risk category.
Hold virtual online events where possible.
Ask to be notified of attendee limits.
Review risk and attend venue during low risk time period if this information is provided, e.g. by the store or venue.
Increase physical distance in a venue where possible.
High Risk
Abide by all recommendations for Moderate Risk category.
Limit out-of-state travel.
Takeout, pickup or delivery from restaurants is encouraged rather than dining in.
Maintain physical social distancing during outdoor recreation.
Keep children away from in-person playdates or similar activities outside of the school setting if avoidable and do not allow children on public playgrounds.
Very High Risk
Abide by all recommendations for Moderate Risk category.
Shelter in Place
Avoid all unnecessary travel. If you must travel, avoid crowded areas if possible.
Telework if possible. If not, maintain more than a 6-foot distance from others and wear face coverings at work.
Avoid unnecessary visits to hospitals, nursing homes or other residential care facilities.
Children with COVID-19 should stay home or be sent home for school or child care if showing symptoms. Limit public interaction between children and do not allow children on public
---
U.S. COSRE Risk Trends Animation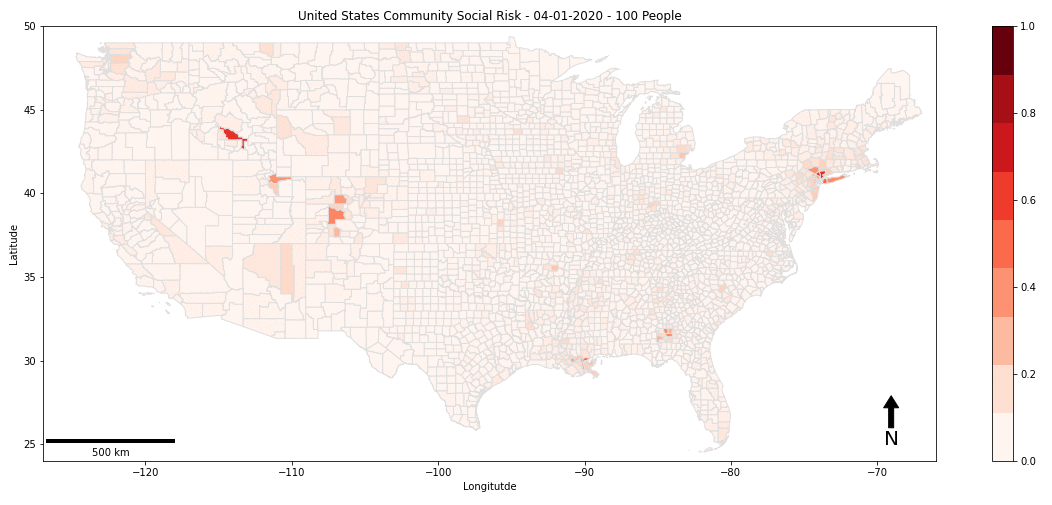 Click the Image to Play
---
PlaceKey COSRE Webinar Recording
Explanatory tutorial of COSRE presented in PlaceKey consortium: link
---
Disclaimer
All the information on this website - zihengsun.github.io - is published in good faith and for general information purpose only. COVID-19 Community Social Risk Estimator does not make any warranties about the completeness, reliability and accuracy of this information. Any action you take upon the information you find on this website (COVID-19 Community Social Risk Estimator), is strictly at your own risk. COVID-19 Community Social Risk Estimator developers and owners will not be liable for any losses and/or damages in connection with the use of our website. Our Disclaimer was generated with the help of the Disclaimer Generator and the Disclaimer Generator.
From our website, you can visit other websites by following hyperlinks to such external sites. While we strive to provide only quality links to useful and ethical websites, we have no control over the content and nature of these sites. These links to other websites do not imply a recommendation for all the content found on these sites. Site owners and content may change without notice and may occur before we have the opportunity to remove a link which may have gone 'bad'.
Please be also aware that when you leave our website, other sites may have different privacy policies and terms which are beyond our control. Please be sure to check the Privacy Policies of these sites as well as their "Terms of Service" before engaging in any business or uploading any information.
Consent
By using our website, you hereby consent to our disclaimer and agree to its terms. Terms are subject to future change.
---
Update
Should we update, amend or make any changes to this document, those changes will be prominently posted here.
4/20/2020 - Add an example score interpretation.
5/15/2020 - Revise the example interpretation system.
5/16/2020 - !!! Estimation algorithm is revised based on the suggestions from Manó and Józsi. Please refer to the Medium article for details.
9/16/2020 - An animation of the COSRE map time series is created to show the trends of COVID venure risk in contiguous United States. Remove specific policy guidelines which are not science-based and inappropriate. The confirmed number of 30 days ago is subtracted from the active COVID cases to be more precise.
10/1/2020 - COSRE paper has been published on Health & Place.
11/2/2020 - Population uses 2019 estimate.
11/3/2020 - The estimation of real active cases is updated according to recommendations from CDC and state government agencies.
11/9/2020 - Fix the problem that the date doesn't move forward automatically.
11/15/2020 - Add safety measures to estimate how many people should be allowed in the venue to bring down the risk to safe level.
1/2/2021 - Website look is improved using bootstrap. The score interpretation is rendered according to risk levels. Remove the notice about new york city because it works now. Enable async loading of gif. A breakdown interpretation of risk levels is added.
1/12/2021 - The PlaceKey webinar recording is added.
1/25/2021 - The animation is changed to semi-month to make page loading faster.